Barbas, Maria Potes; Seixas, Afonso; Torres, Ana; Torrezão, David; Raimundo, Gomes; Neves, Marco; Oliveira, Nuno; Peres, Paula; Silva, Perpétua; Pintor, Renata; Oliveira, Rosa; Lopes, Rui; de Sá, Rui; Serrão, Rui, Raimundo, Tiago. Simpósios de Formação Avançada – Experiências Inovadoras em e-learning.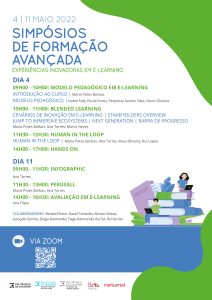 Barbas, Maria Potes; Neves, Ana; Oliveira, Margarida; Pinto, Paula. Simpósios de Formação Avançada – Projetos ID+I Erasmus KA2_FCT.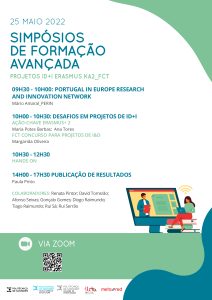 Branco, Paulo. Formador no Workshop "Escape Box", no âmbito do projeto Escape To Your Future no Instituto Superior de Tecnologias Avançadas.
Pinheiro, B. & Branco, P. D. (2022). Escape to your future. Retrieved from https://escapetoyourfuture.eu/courses/escape-to-your-future/
Teaching tolerance, diversity and active citizenship in the 21st century classroom.
The primary school classroom – effective teaching approaches for an inclusive classroom through NFE tools and resources.